Liposuction is an impactful procedure with little downtime – this is why it often shows up as the #1 Surgical Procedure plastic surgeons perform. Many people come in for consultation hoping they are a candidate for Liposuction. Here are some characteristics that better qualify individuals for Liposuction:
Good health and fitness
Healthy weight
Good skin quality
Focal fat/problem area
Fat that is removed may also be recycled back into the body: to the face, breasts and/or booty. Fat grafting is a smart way to move fat from an undesirable part of the body to a place requiring more fullness and rejuvenation.
Many are interested in learning more about – or have undergone – "lunchtime" fat reduction procedures that do not require anesthesia. SmartLipo, CoolSculpt, Bodytite all have cool catch-names and promise results, but provide very limited results. What you put in is what you get out: there is no magic. I see individuals who have spent good money on lackluster, barely there results from minimally invasive fat reduction/sculpting technologies. It makes better sense to spend your valuable money and time on the gold standard surgical procedure with guaranteed RESULTS!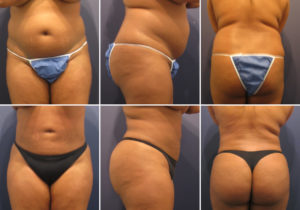 before (top row), after (bottom row)
Let's see if you are a candidate for Liposuction. Look for more information at https://www.drshermak.com/body/liposuction/ and don't hesitate to schedule a consultation with Dr. Shermak.