I LOVE Tummy Tucks! There is a broad range of tummy tuck procedures – more formally known as Abdominoplasty – to serve a wide range of abdominal presentations. Approaches vary from mini, to traditional, to more extensive incisions to allow for increasingly impactful results.
A Tummy Tuck allows for excess abdominal skin removal, and this may be paired with muscle repair in cases where core strength has been impaired by biology, surgery or pregnancy.
Tummy Tucks may involve "skin only" if the muscle is in good shape. This is great for younger weight loss patients and individuals left with residual contour issues after liposuction of the abdomen.
A Mini Tummy Tuck allows for lower abdominal skin reduction with muscle tightening. There is only a lower scar above the pubic area. This is a great procedure for women with ugly C section scars and fullness of the pubis or who have significant abdominal muscle laxity from pregnancy, with good skin quality.
The more traditional Tummy Tuck allows for greater skin reduction from top to bottom – just below the breast to the pubic area – and includes a scar around the belly button. This is my "go to" Tummy Tuck as it allows for maximal skin tautness and also results in great secondary benefit in the pubic area and upper and outer thigh. Paired with waist liposuction, this procedure creates beautiful results and off the chart patient satisfaction.
An Abdominoplasty may be extended part-way or all the way around to the lower back, above the buttocks. This helps address the greater degree of skin laxity, while also allowing for a lift of the outer thigh and buttocks. This procedure is typically used for individuals who have sustained massive weight loss.
Any of these Tummy Tucks may be paired with liposuction to further improve back and waist contour.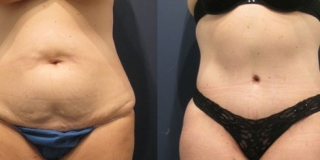 Tummy Tuck before and afters performed by Dr. Michele Shermak
Tummy Tuck Gallery »
Abdominoplasty is one of the most sought-after plastic surgery procedures. It serves a wide-ranging audience of men and women and provides impactful results. If you are excited by the prospect of a Tummy Tuck to improve your abdomen, call 410-324-6592 to schedule a consultation with Board-certified plastic surgeon Dr. Michele Shermak.